Downloads
Matrikon OPC Tunneller Trial software
Matrikon Tunneller Manual (Korean)
DataHub Tunneller Trial software
OPC Tunneller
OPC Tunneller는 OPC DCOM 설정 없이 OPC Server와 Client 간의 통신을 가능하게 하며, VPN (Virtual Private Network)을 통해서도 OPC 통신을 가능하게 합니다. Tunneller는 OPC Server 와 Client PC에 모두 설치되어야 합니다.
Vendor/Product


Selection Guide


Matrikon Tunneller
(go to Matrikon Tunneller)

OPC DA 지원

OPC HDA, OPC A&E 지원 (선택 사양)

OPC Server ProgID Aliasing

폭 넓은 사용 실적

사용자 정의 Security

DataHub Tunneller
(go to DataHub Tunneller)

OPC DA 지원

OPC A&E 지원 (선택 사양)

Data Set Mirroring across network

Connection 이중화 지원

Linux, QNX 지원 (Cascade DataHub for Linux/QNX)

사용자 정의 Security

POSO, 현대제철 등 130여개 이상 설치 실적 (with ibaPDA)
Features and Benefits:
Easy configuration.

Seamless OPC data transfer through multiple mediums across geographical locations.

Reliably transfer real-time, historical, and alarms field data to a centralized historian.

Data encryption for security.

High performance data compression to utilize less bandwidth.

Communication with multiple OPC servers and clients simultaneously.

Alarm and Events specific:

Simple, Tracking, and Conditional Events are supported.

Subscribe and Receive Conditional Alarms and Events.

Automatic refresh method to update the state of condition events.

Added 64 bit support for both Client Side and Server Side connections.

Status tags provided for OPC real-time data items monitoringConnection status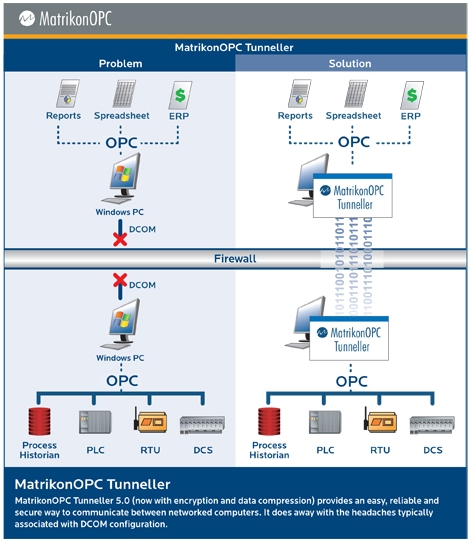 MatrikonOPC Tunneller™ solves 6 major issues encountered using OPC over DCOM:

1. Cross Domains and Workgroups
Authentication difficulties make DCOM connections across different domains or workgroups extremely difficult or impossible. Leap past this limitation with OPC Tunneller. Essentially, if you can ping the PC, you can get to it with Tunneller.
2. DCOM and OPC through firewalls
DCOM uses a wide variety of ports, making it almost impossible to configure a firewall with. Not to mention, DCOM is a prime target for viruses and worms such as Blaster. OPC Tunneller lets us firewall our PC's for maximum security against viruses and worms, yet still allows us all the benefits of OPC.
3. DCOM needs a lot of bandwidth
DCOM works best in environments with low latency and high bandwidth; typical of an office LAN. This causes considerable difficulty when communicating over satellite, modems, radio, and other bandwidth-limited communication types. MatrikonOPC Tunneller™ features lossless data compression, which reduces load on networks and saves cost when paying per MB of data.


4. Timeouts and Disconnections
Plagued with timeouts? Need recovery faster than the unconfigurable 6 minute timeout that comes with DCOM? MatrikonOPC Tunneller™ has configurable timeouts to work best with your network and reconnects to OPC Servers in a fraction of the time.
5. Data Privacy
OPC Tunneller now features data stream encryption. "Man in the middle" type of attacks can now be thwarted, because OPC data is not readable without the key. Encryption can be selected from 64, 96, or 128 bit AES. OPC Tunneller can also limit client connections from only the IP addresses you define.
6. Easy Configuration
Depending on your system, configuring DCOM just to the point of getting communication can take days! OPC Tunneller reduces your integration time to minutes!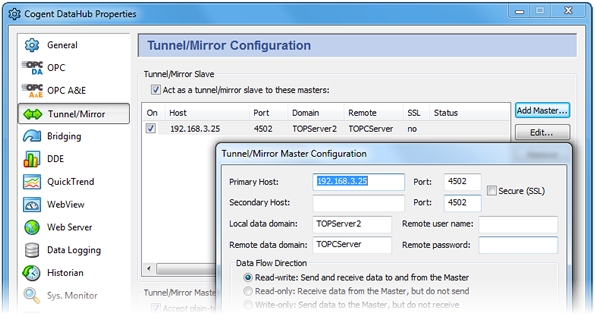 More features of the Cogent DataHub tunnelling product.
A

simple 3 step procedure

gets you up and running in minutes.

SSL networking provides a

secure connection

over a network or Internet connection, including optional password protection.

The tunnelling connection

works across firewall boundaries

.

The Cogent DataHub provides

immediate response

and automatic recovery from network interruptions and link detection timeouts can be as fast as 50 milliseconds.

Licensing is quick and easy using

software key codes

. No hardware keys to worry about.

The Cogent DataHub can connect between

XP, 2003 Server, Vista, 2008 Server and Windows 7

.

Unique to the Cogent DataHub is the ability to tunnel data between programs on Windows,

Linux

_QNX

operating systems.

A powerful built-in

scripting

language lets you fully customize your OPC applications by attaching custom code to process events and point changes.

Our

embedded toolkit

helps you build custom tunnelling connections for any non-Windows OS that supports TCP, such as Linux, QNX, Itron, VxWorks, etc.

Full read and write

support for Excel

for accurate reporting and real-time Excel analysis of your plant data (optional).

The Cogent DataHub also has the ability to

aggregate data

from multiple OPC Servers into a common data set, giving you a single point of access to all of your plant data.

Support for the

latest web technologies

lets you build powerful web applications for process visualization and control (

(optional).

Full read and write

access to ODBC databases

so you can log data to SQL/Access/Oracle, or integrate database information into your OPC applications

(optional)

.