TCP/IP Configuration

This driver access process data in field control stations (FCS) via the text-mode communication gateway unit (ACG10S-E). Connect to the ACG10S-E with TCP/IP Port Number 20005.
Channel Configuration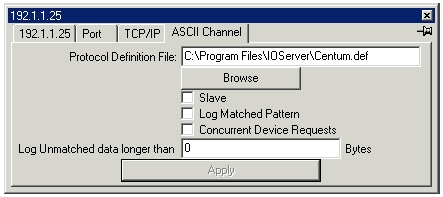 The Yokogawa driver uses the User Definable Protocol driver.
| | |
| --- | --- |
| Protocol Definition | Centum.def is the protocol definition file for the Yokogawa driver |
| Browse | Browse for ASCII protocol definition file. |
| Slave | Not used |
| Log Matched Pattern | Not used |
| Concurrent Device Requests | Requests are send to each device attached to this channel in parallel, without waiting for the response from the previous device. If disabled then only one request can be handled at a time per channel. Enable this option if more than 1 device is defined for the TCP/IP connection. |
| Log Unmatched data longer than | Log all unmatched data longer than specified length. |
Device Configuration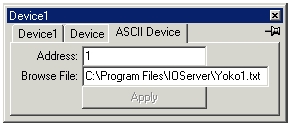 | | |
| --- | --- |
| Address | The sequence number (0 to 99) for this device. Each device must use a unique sequence number. The maximum number of devices supported is configured at the ACG10S-E gateway. |
| Browse File | Specify a different browse file for each Yokogawa device. This file is the database of tag information received from the device. This file is read into memory at device startup. The device tag information is written to this file at device shutdown. The next time the driver is started up, it will use the tag information to optimize read and write requests. The driver will group up to 32 items per read request, and up to 8 items per write request |
The driver will accept any tag name from OPC clients, the driver will issue a read request to the Yokogawa device for this tag, the Yokogawa device will response with the data type and value for the tag. If that name is reject by the Yokogawa device, the Device window will show that tag with the Yokogawa error message (disable IOServer->Preference->Display all communication events to show errors only)
Variable Types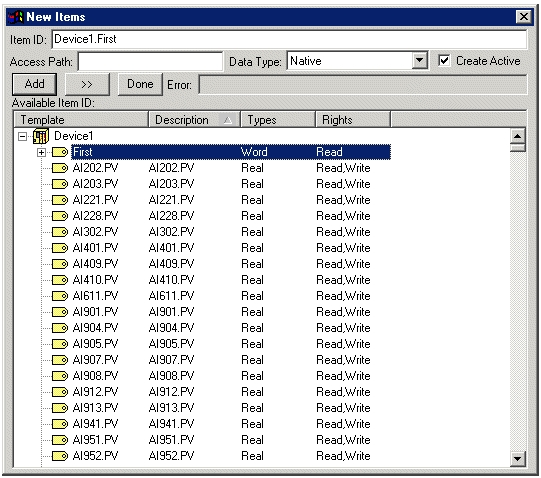 Performance
Gateway (ACG10S-E)는 초당 500 포인트 이내를 권장하고 있지만, 1000 태그까지 무리없이 사용한 실적이 있습니다.