OPC Server for Mitsubishi (Melsec)
Vendor/Product


Selection Guide


Kepware
(go to Kepware Melsec)

가장 널리 사용되는

OPC Server

OPC DA & UA Server

Intouch SuiteLink & iFIX PDB interface

Mitsubishi A & Q 시리즈

Ethernet / Serial

통신 지원

UDP & TCP/IP 지원

OEM 제품 제공

(SoftwareToolbox TOP Server)

Takebishi
(go to Takebishi Melsec)
Takebishi OPC Server for Melsec
Takebishi OPC Server (DXP5) 는 아래의 Device와 다양한 통신 방식을 지원합니다.
Controller Series

Comm. Module

MELSEC-Q
MELSEC-Q (High Performance)
MELSEC-Q (C Language Controller)
MELSEC-Q (Motion Controller)
MELSEC-L
MELSEC-FX
MELSEC-QnA
MELSEC-A
GOT1000

Ethernet Modules
Internal Ethernet Port
Serial Mdules
Internal USB Port
Internal Serial Port
MELSECNET Boards
CC-Link Cards
GX-Simulator
EZ Socket
EZSocket 지원
It is possible to configure the communication setting by the same screen as useful GX Works (GX Developer)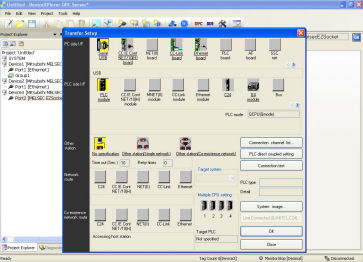 Support L series/FX Ethernet/Stand-Alone Motion
Support promptly new L series and FX series Ethernet. Support Q170MCPU of Stand-Alone Motion
Equipped with "Q4E protocol" that controls packet gap
DeviceXPlorer doesn't happen the mismatch of response message and required message, because the Sequence number is embedded.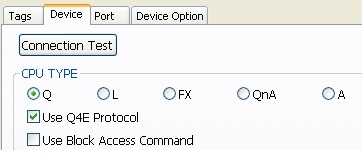 Batch access function.
The more than one PLC register can be collectively read and written as separator string(slash "/") of a single tag. For example, when you add a OPCItem as "Device1.D0/D1000/ZR200/M0" , you can read "10351,23045,0,0".

Communication with random access buffer
Communicating shared memory of Ethernet unit by random access buffer, You can exchange datas high-speed , it doesn't depend on PLC's scan time
Direct access to intelligent function module
Buffer memory"G" can only be accessed by groups for which the intelligent function module access is enabled. For example , When you select "QD75" and access to "G800", you can get "Current feed value".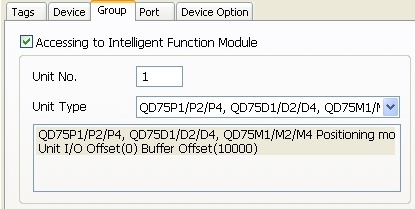 MELSECNET transient transfer
You can access to other CPU on MELSEC/H and CC-Link/IE via the Ethernet unit. You can construct flexible system configuration , but the communication performance is lower
Support multi CPU
You can access the device memory of the CPU among two or more CPU installed on Q bus. Because the transfer function between CPUs side is not used, the system construction of high throughput is possible.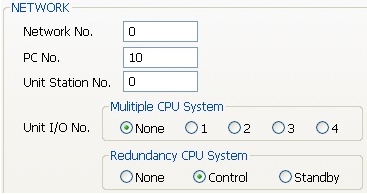 Support a redundant system(QnPRHCPU)
It is possible to access CPU by specifying control system or standby system, system A or system B. By combining with the redundant function of the DeviceXPlorer, it is possible to correspond to the redundant system that automatically switches the line when the communication abnormality is generated.
Built-in Ethernet a port has the following restriction on PLC side.

Automatic opening UDP port (the 5000th) cannot be used.

Block Access Command cannot be used.

It is impossible to access CPU on another station in a multiple CPU system.

It is impossible to access CPU on another station via a network (MELSECNET).

It is impossible to access Random access buffer.

It is impossible to access buffer memory of the intelligent function module.

It is impossible to use Q4E frame and A1E frame.

In using TCP/IP, Existence Confirmation will be done 9 times for 5 seconds.